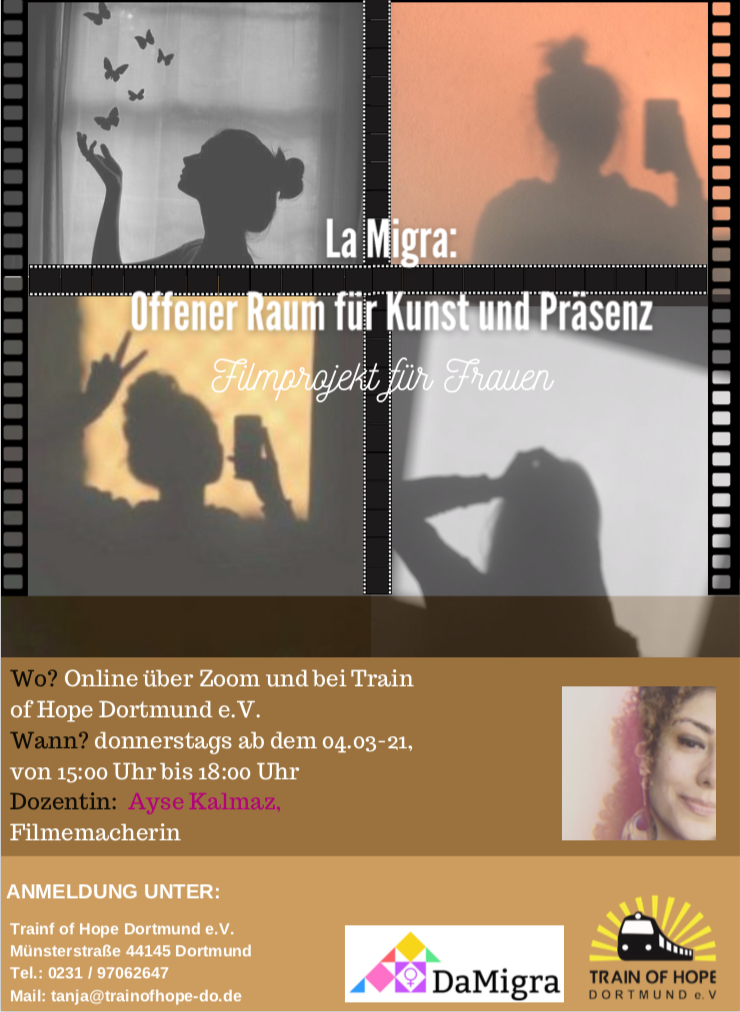 Kunstprojekt mit und von Frauen
Die Werkstatt ist ein Ort der künstlerischen Auseinandersetzung mit allen Themen, Herausforderungen und Fragestellungen, die die Teilnehmerinnen in ihrem Leben bewegen.
Insbesondere das Thema des Frau Seins in unterschiedlichen kulturellen Räumen wird in intensiven Austauschrunden gemeinsam vertieft.
Jede Frau darf ihren individuellen Weg finden um ihre Erfahrungen und Gefühle in Kunst auszudrücken – sei es in Textform, als Kurzfilm, als Bild, als Tanz oder andere künstlerische Ausdrucksformen. Die Referentin begleitet die TeilnehmerInnen dabei, leitet sie Schritt für Schritt an und gibt kreativen Input.
Die entstehenden Arbeiten sollen es ermöglichen diese Themen ebenfalls in den öffentlichen Diskurs zu bringen und gemeinsam mit anderen Frauen weiter zu erforschen.
LA MIGRA

Art project with woman

The workshop is a place for artistic exploration of all topics, challenges and questions that move the participants in their lives.

In particular, the theme of being a woman in different cultural spaces will be explored together in intensive exchange rounds.

Each woman is allowed to find her own individual way to express her experiences and feelings in art – be it in text form, as a short film, as a picture, as dance or other forms of artistic expression. The instructor accompanies the participants, guides them step by step and gives creative input.

The resulting works should make it possible to bring these topics into the public discourse and to explore them further together with other women.